The AquaEC 6000 Series from Axalta Coating Systems
Let's talk about the next generation of e-coat technology offering improved performance and productivity.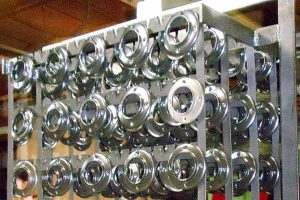 The AquaEC 6000 series from Axalta Coating Systems is a family of cathodic E-coat primers based on enhanced epoxy resins and an innovative tin-free catalyst. This family of products is designed for many end-use markets, including automotive parts and accessories, appliances, agricultural equipment, HVAC, office and patio furniture, and general industrial use. Axalta coatings are also available for military use.
Manufacturers appreciate Axalta's ability to work with different substrates, complex part designs and varied pretreatment options. The technology behind the AquaEC 6000 series is specifically formulated to meet those demands. Excellent mechanical properties, superior corrosion resistance, and enhanced edge protection combine to enable AquaEC 6000 coatings to deliver improved performance.
Delivering enhanced corrosion resistance and productivity, the Aqua EC 6000 series provides excellent coverage and application properties.
Highlights
Enhanced corrosion protection
­ Improved edge protection
­ Improved throw power
­ Lower cure temperature
­ Made for compatibility with new thin-film pretreatments
­ Compliant with global environmental standards
­ Smoother finish
­ Tin-free
Excellent Productivity
The low-temperature curing properties of the AquaEC 6100 primers helps to reduce energy costs. Its high throw power delivers optimized film distribution across all surfaces. This Axalta product is also an industry leader in bake loss, resulting is less film shrinkage and increased coverage per gallon of primer. The new tin-free technology used to formulate AquaEC 6100 makes it both environmentally friendly and Axalta's most advanced E-Coat.
How Does e-Coating Work?
E-coating is when a rack of small parts are lowered into a liquid bath where an electric current is applied to the parts, drawing paint or epoxy out of the liquid solution and onto the part.
The end result is a durable, chip and corrosion resistant coating with a superior result that extends part life in even the harshest environments.
e-Coating has advantages when either very precise or very thin coatings are needed, and especially where parts have complicated topographies or hard to reach areas.
Get the best that Great Dane has to offer. Give us a call at 724-537-9709. 
Try Great Dane's Coating Services Today
With over 27 years' experience in the industrial parts coating business, Great Dane Powder Coating, Inc. stands head and shoulders above one-off shops for delivering quality, reliability, and consistency. We handle repeat and high-volume orders with ease, giving your production parts a high-end, finished look that increases their lifespan and their customer appeal.
When you want affordable, reliable, and outstanding results, give us a call at 724-537-9709 or visit our NEW ELECTROCOATING CUSTOMERS page today.