Powder Coating
Industrial Strength, Scratch Resistant, Cost Effective
Powder Coating is the process of applying a finely ground mixture of pigment and resin to metal, electrostatically. Once cured in an oven, the resulting coating is remarkably durable.
Powder coated metal is resistant to scratching, chipping, fading, and weathering. Powder coating provides one of the most long-lasting and economical finishes available.
Any metal object that can hold an electrostatic charge and withstand the heat of the curing process can be powder coated.
Industrial Fabrications & Machined Parts

Architectural Signage

Castings

Metal Fencing & Railings

Retail Displays & Fixtures

Weldments & Stampings

Motorcycle & Automotive Frames

Wheels & Parts

Patio Furniture, Gliders & Chairs
Powder can be applied to intricate surfaces and still maintain a uniform finish across the entire piece. Materials coated include steel, galvanized steel, aluminum, aluminum castings, aluminized steel, galvaneal, powdered metal, and sintered metal.
Why Choose Great Dane Powder Coating?
You'll find our dedicated crew and cutting-edge automations can paint, assemble, label, pack and deliver your order with a 5-day turnaround guarantee. Need it faster? Don't hesitate to ask. Large parts, large orders, and high-volume runs - at Great Dane we handle the toughest challenges.
Our value-added services allow us to handle your order with turn-key ease, from surface preparation to packaging.  Learn more on our Custom Services page.
Great Dane is trusted throughout the tri-state area and by companies as large as Spartan Motors, Caterpillar, and Manitowoc Cranes.
Our Service Area
Great Dane Powder Coating provides high-quality metal painting services to customers throughout the Pittsburgh region, Western Pennsylvania, Eastern Ohio, West Virginia, Maryland, and New York.
We have clients in Cranberry, Erie, Greensburg, Indiana, Johnstown, Latrobe, Pittsburgh, and Washington, as well as Cleveland Ohio and Morgantown, West Virginia.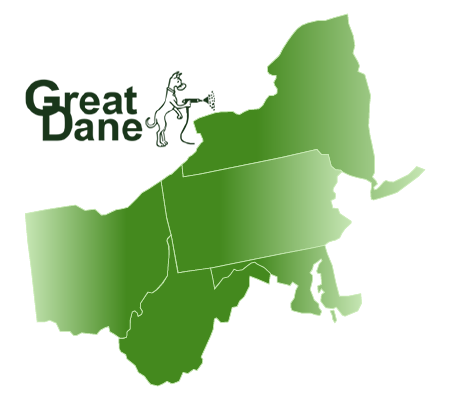 Interested?
Call us today at 724-537-9709 or click a button below.