eCoating vs. Powder Coating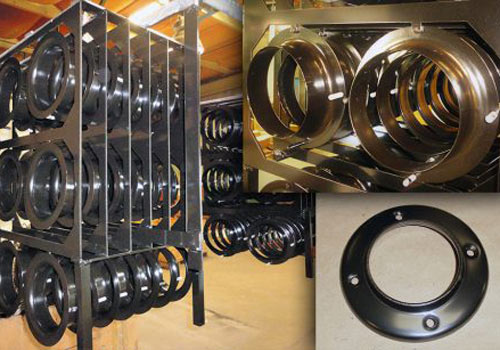 Both eCoating (electrocoating) and powder coating are used to apply a protective layer to parts and manufactured items. This can range from metal rings and automotive parts to radiators and industrial guardrail.
Many industries rely on eCoating and Powder Coating to protect their end products, installations, equipment, and facilities. This includes Construction, Defense, Education, Energy, Manufacturing, Food Processing, and Automotive assembly, just to name a few.
Of the two processes, which is superior? The one the most demanding customers turn to for the best results?
The answer is: the coating process best suited to the specific job. In fact, for some of the most durable and long-lasting results, eCoating is used as a primer for a Powder Coating finish.
That's why Great Dane Powder Coating offers both eCoat and Powder Coat services. We are experts at both coating methods, as well as combining those services when needed.
The Right Process for the Job at Hand
Powder Coating involves the efforts of a highly-skilled technician practiced in using a precision, hand-held coating gun. The operator applies a uniform, wear and corrosion resistant surface coat.
eCoating is usually when a rack of small parts are lowered into a liquid bath where an electric current is applied to the parts, drawing paint or epoxy out of the liquid solution and onto the part.
Both methods provide a durable, chip and corrosion resistant coating with a superior result that extends part life in even the harshest environments.
e-Coating has advantages when either very precise or very thin coatings are needed, and especially where parts have complicated topographies or hard to reach areas that would make Powder Coating difficult or imprecise.
Powder Coating can be very time and cost-effective for items like industrial guard rail, bollards, appliances, automotive rims and wheels.
At Great Dane Powder Coating, we make evaluations and project recommendations every day for manufactured parts and pieces that cross the greatest possible range of size, shape, weight, and substrate materials. Final use and operating environment is also taken into account.
eCoating vs. Powder Coating is not a "this or that" choice, as though one is proven to deliver a superior result in all cases. Our coating experts have the experience to work with you in selecting the right solution for your product, your budget, and the operating environment in which those parts are to be used.
Get the best that Great Dane has to offer. Give us a call at 724-537-9709. 
Try Great Dane's Coating Services Today
With over 27 years' experience in the industrial parts coating business, Great Dane Powder Coating, Inc. stands head and shoulders above one-off shops for delivering quality, reliability, and consistency. We handle repeat and high-volume orders with ease, giving your production parts a high-end, finished look that increases their lifespan and their customer appeal.
When you want affordable, reliable, and outstanding results, give us a call at 724-537-9709 or visit our NEW ELECTROCOATING CUSTOMERS page today.