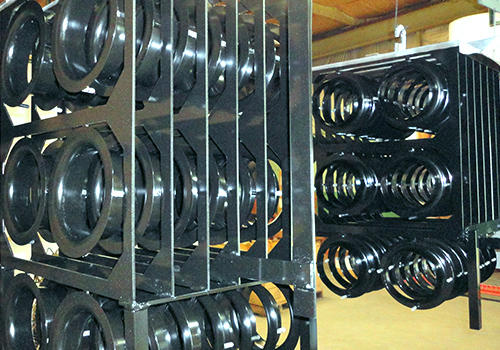 Electrocoating
For Industrial and
Manufacturing Clients
25 year-old coatings company, experienced in serving manufacturing and high-parts production clients.
e-coating, assembling, labeling, packaging, and delivery your order with a 5-day turnaround guarantee.
Orders handled with turn-key ease, from surface preparation to packaging.
Materials coated include steel, galvanized steel, aluminum, aluminum castings, aluminized steel, galvaneal, powdered metal, and sintered metal.
At Great Dane Powder Coating Inc., we're experts in professional electrophoretic coating. That's why so many companies turn to us for their industrial and high-volume e-coating needs.
Complete the Quote Request form on this page!
Electrocoating Done Fast
Our simple, three-step process allows for faster filling of high-volume orders and consistency across all pieces!
Parts Cleaning and Pre-Treatment
Immersion in a Charged Electrophoretic Bath
Drying/Oven Curing to a Create a Durable Finish
Whether your order has 100 parts or 10,000, Great Dane's experts can handle it. Electrocoating allows our team to apply an identical finish to every piece, every time. From metal bars and rings to radiators and replacement auto parts, Great Dane's electrophoretic coating options can evenly finish the most complex shapes in hard-to-reach areas.
Challenge us today!  Give Great Dane Powder Coating a call at 724-537-9709.
Or Complete the Quote Request form on this page!