Iron Phosphate Pre Treatment
A Preparation Step in High-Quality Powder Coating
Powder coating —the kind industrial and parts manufacturers demand— can be extremely durable and protect metal parts from corrosion and rust.
At Great Dane Powder Coating, our process includes an Iron Phosphate Pre-Treatment Wash in which the parts to be powder coated are cleaned, chemically pre-treated, and rinsed. The benefits of this process are:
Iron Phosphate provides increased adhesion for the powder coat
It increases corrosion resistance by providing a secondary protective layer
Phosphate conversion adds to the lifetime of the treated part.
What is Iron Phosphating?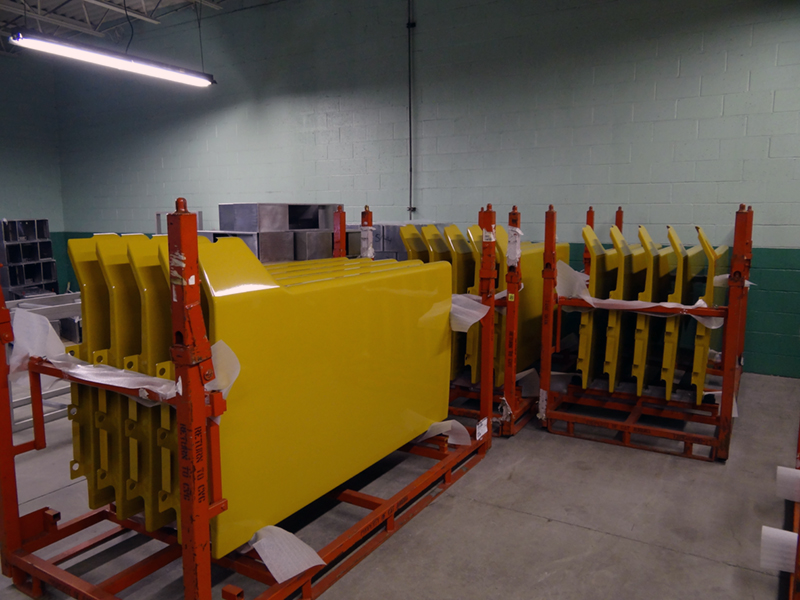 Phosphating is a pre-treatment step that results in a conversion coating. Parts to be powder coated are immersed in an acidic bath. The solution reacts with the metal part, converting the surface of the part into a protective layer.
Just as in preparing any part for powder coating, the first step is proper cleaning to remove residues and create a ready surface. When they arrive, parts may have various levels of contamination from the manufacturing process, anything from grease and machining oils to welding and grinding residue.
At Great Dane, we are most often able to efficiently pass parts through a conveyor process that cleans, chemically pre-treats, and rinses parts in preparation for powder coating.
Once through the iron phosphate pre-treatment and rinse, the parts are sent to a dry-off oven where all moisture is evaporated and the parts are ready to rack for powder coating.
Experienced Pre-Treatment Matters
As important as iron phosphate pre-treatment can be in preparing the part for a durable, corrosion resistant powder coat, experience in the phosphate process itself can be critical.
Knowing the right pH concentration for the application determines the weight of the corrosion conversion coating.
Exposure time determines the uniformity of the coating and may vary based on the complexity or shape of the part.
Temperature varies the reactivity of the chemical bath, depending on the size and density of the part to be coated.
When you work with Great Dane Powder Coating, Inc., you have an experienced partner able to determine the appropriate production path for your powder coating needs. When iron phosphate pre-treatment is used, we do it right, with knowledge of your part's end use, required lifespan, and operational environment.
We can do all this at quantity, with high production runs and exceptional quality control. To learn more, give us a call at 724-537-9709 or visit our Contact Us page today.
Experienced Powder Coating Professionals
At Great Dane Powder Coating, Inc., we are celebrating 25 Years in business this summer!  We offer the benefits of a cutting-edge facility and state-of-the-art equipment. It's no wonder that we are trusted by fabrication facilities and manufactures across the country to deliver highly durable coatings on a wide variety of parts and components
Looking for a powder coating partner you can rely on? Give Great Dane Powder Coating a call at 724-537-9709 or visit our Contact Us page today.