Zirconium Pretreatment
Conversion Coating for Corrosion Protection and Durability
At Great Dane Powder Coating, Inc., located in Loyalhanna, Pennsylvania, we've added zirconium pretreatment to our e-coating services.
Zirconium is a non-phosphate metal coating that offers a number of advantages over traditional surface preparation of parts.
Because zirconium coatings offer a cleaner, quicker production environment in e-coating, cost savings can be passed on to our customers. These advantages include ambient temperature operation, short part contact time (15-30 seconds), and continuous operation without sludge buildup and costly tank dumps.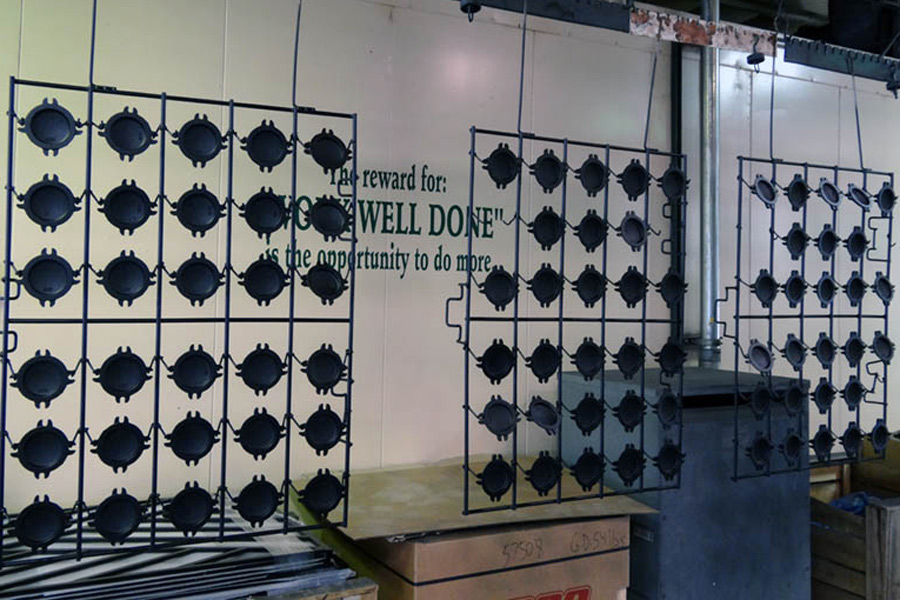 Besides being an economical process, zirconium conversion offers the direct results you're looking for:
Superior corrosion resistance vs. iron phosphate coatings.
Zirconium pretreatment meets mil spec: MIL TT C-490G, TYPE IV
Delivers light-weight and thin-film coatings, while providing an excellent base for painting.
Useful on all typical metal substrates: steel, galvanized, and aluminum.
Extends service life of parts, improving wear and resisting surface degradation.
Zirconium pretreatment has even been adopted for military coating systems. Demonstrations at Anniston Army Depo showed that in accelerated corrosion testing and seacoast environmental testing, of the demonstration parts and panels—  zirconium technology provides performance that is equal to both zinc phosphate and the aluminum conversion coatings.
A Green Process
Zirconium pretreatment is an environmentally friendly process. Phosphate free, zirconium coating uses no regulated heavy metals and offers reduced environmental impact. This includes reduced wastewater and a nonhazardous working environment for the health and safety of pretreatment operators.
For manufacturers dedicated to environmentally friendly materials acquisition and product development, zirconium pretreatment offers a green coatings process while improving the lifetime of parts overall and keeping components working longer rather than ending up in landfills.
Consistency and Quality Assurance
At Great Dane, we pride ourselves in delivering consistency and quality across all size parts coating orders. Whether your order is for a small number of complex parts or a large production run, the end result has to be predictable and repeatable.
Our goal is not only consistence across one order, but for repeat future orders as well.
Quality starts at the beginning, with parts cleaning and surface preparation. If one part out of a 100 is not properly prepared, that is the part where the surface coating will either look bad at the end of the process or fail in use, peeling and chipping.
Great Dane has the expertise you need to assure proper surface preparation for use with coating technologies ranging from powder coating and electrophorectic coating to zirconium pretreatment, across a wide range of substrates.
Try Great Dane's Coating Services Today
With over 27 years' experience in the coatings industry, Great Dane Powder Coating, Inc. stands head and shoulders above one-off shops for delivering quality, reliability, and consistency. We handle repeat and high-volume orders with ease, giving your production parts a high-end, finished look that increases their lifespan and their customer appeal.
When you want affordable, reliable, and outstanding results, give us a call at 724-537-9709 or visit our NEW ELECTROCOATING CUSTOMERS page today.