Quick Turnaround, Affordability, and Consistency Guaranteed
Industrial powder coating is still a complex process. The quality of the result is dependent on a handful of critical factors.
These include professional-level equipment, talented operators, experience with a wide variety of substrates, and the process.
A well-managed process helps to deliver the best results, including quick turnaround, consistency of result, and affordability.
Both Continuous and Batch Processing Available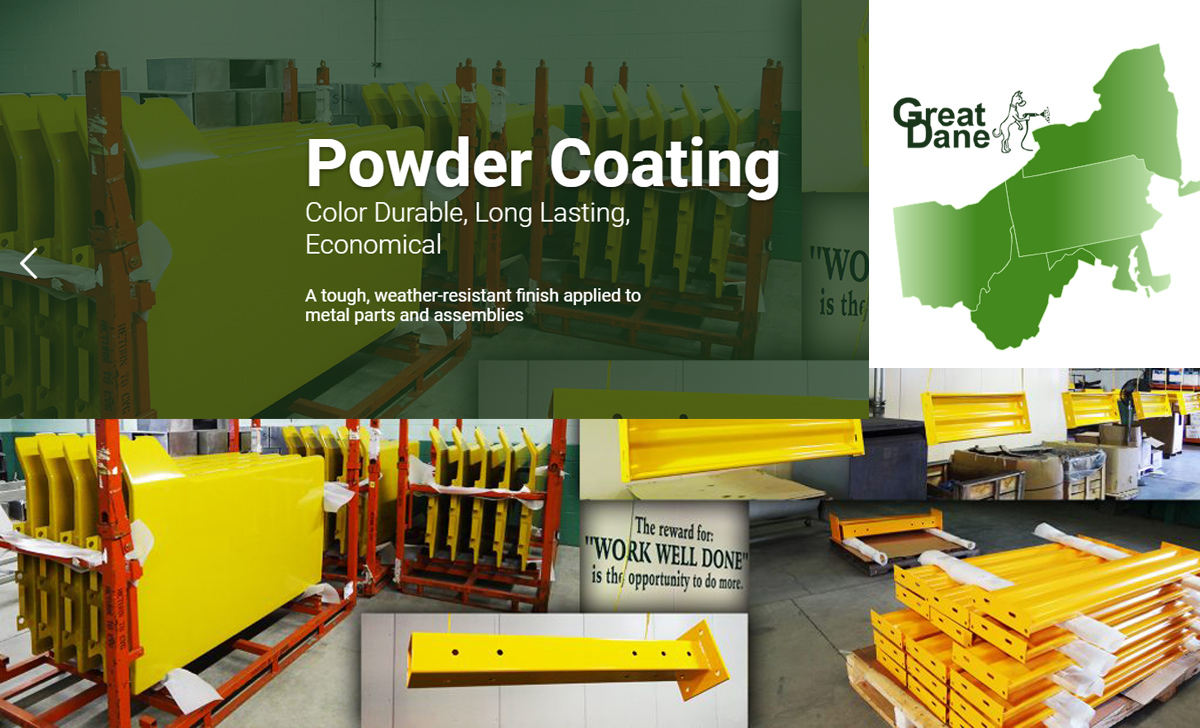 At Great Dane Powder Coating, we have two overhead conveyor lines able to move parts weighing up to 300 lbs. Parts are loaded on the conveyor line and pass through a washer that cleans, chemically pre-treats, and rinses.
A dry-off oven prepares the parts for the powder booth, where automatic or manual powder application occurs.
Parts next pass through the cure oven. Finally, they are unloaded from the conveyor and inspected, then packed for pickup or shipment.
Large part capacity on the conveyor is 42" W X 84" H X 96" L.
The batch process is similar but handles orders in quantity, taking specific batches through to completion all together.
Here custom pre-treatment is the rule, depending on the substrate. The batch dry-off oven is next, followed by batch powder application and oven curing. Finished batches are inspected, then packed for pickup or shipment
The batch process has no weight limit for parts.
Large part capacity in batch powder coating is 5' W X 7'H X 21'L.
Rely on an Experienced Team
Which process is right for your powder coating project? It's not just about size or weight, though they can be determinants. It's about understanding the end use of your product, your turnaround timing needs, the type and amount of pre-treatment necessary for the substrate of the part.
Most importantly, at each step of the way experienced team members must assure appropriate equipment settings, voltage, and oven temperatures. These vary by the powder, part mix, and judgment of the operator. The end result is part science and part art.
At Great Dane Powder Coating, we treat every customer as a partner in success. Our mission is high-quality parts coating, our goal is to contribute to your company's growth, ROI, and reputation for excellence.
Would you like to learn more? Give us a call at 724-537-9709. 
Great Dane Powder Coating is 100% Available
An essential business, Great Dane Powder Coating has worked full-time through the COVID-19 emergency, and we are 100% ready to supply protective coatings for manufacturers of all types, including medical and scientific equipment, utilities, military, trucking, rail transportation, and more.
If your business is having trouble sourcing high-quality powder coating, or needs Great Dane to troubleshoot a difficult project, give us a call at 724-537-9709. 
Delivering Powder Coating Excellence for over 25 Years!
When you want affordable, reliable, and outstanding results, give us a call at 724-537-9709 or visit our NEW POWDER COATING CUSTOMERS page today.